Providing Quality
Service
Since 1993
Providing Quality
Service
Since 1993
Since 1993, JAG Window Tinting & Treatments has provided high quality, professional window tinting and treatment services to customers throughout Brevard County and Orlando. JAG Window Tinting & Treatments became a 3M™ Authorized Prestige Dealer in 2013 and, subsequently, received 3M's esteemed National New Dealer of the Year Award in 2014. The company received a 2018 3M Sales & Growth Marketing Award for year-over-year growth in automotive window tinting. The company has outstanding relationships with several automotive dealerships, including Lexus of Melbourne and Island Lincoln Jaguar Range Rover. In addition, we also work with Bob Steele Chevrolet, Boniface-Hiers Chrysler Jeep Dodge and Space Coast Honda.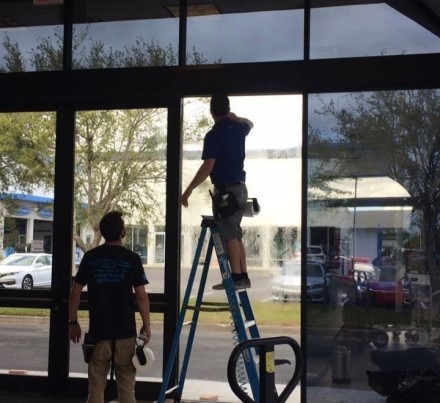 Quality Work Matters Most
JAG Window Tinting & Treatments has experience with a variety of projects, both large and small. We have served residential homes, commercial properties, government facilities and more. Here's a glimpse of some of our notable work.
Automated Roller Shades on L3 Harris in Palm Bay, FL
3M™ Sun Control Window Film on Cruise Terminal 1 at Port Canaveral
3M™ Sun Control Window Film on Exploration Tower at Port Canaveral
3M™ Safety & Security Film on a 38,000-square-foot Convention Center
3M™ Fasara™ Glass Finishes on the Disney Magic Cruise Ship
Exterior Solar Film on the Sheraton Hotel in Indianapolis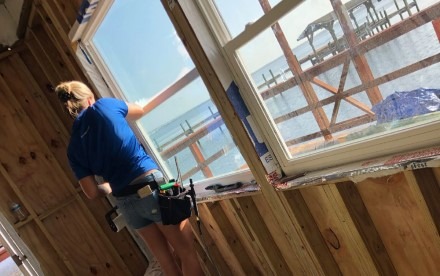 Professional, Trained Installers
JAG's full-time window film installers are certified by 3M to ensure the highest quality installation backed by the most comprehensive warranty from 3M, a company you know and trust. Our window treatment installers are also employed by JAG and highly trained.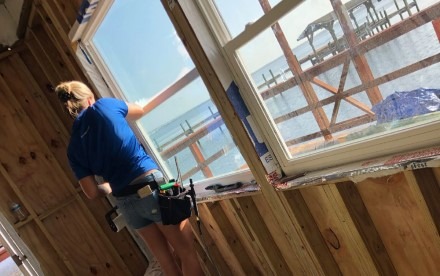 Community is Important to Us
We, at JAG Window Tinting & Treatments, believe in the importance of giving back to our community. We donate our time and resources to assist local organizations provide services that impact the daily lives of those in the Brevard and East Orlando area.
Proud supporter of the following organizations making a difference in our community:
In 2016, we donated $1,625 in labor and materials to install 3M™ Sun Control Window Film, Night Vision Series on Nana's House in Melbourne.
In 2017, we installed 3M™ Window Film on all of the windows of The Children's Hunger Project's warehouse. The materials were donated by 3M and we provided the labor for a total donation of $9,000.
We are a supporter of The Animal Sanctuary.
We are a proud member of the Cocoa Beach Regional Chamber of Commerce.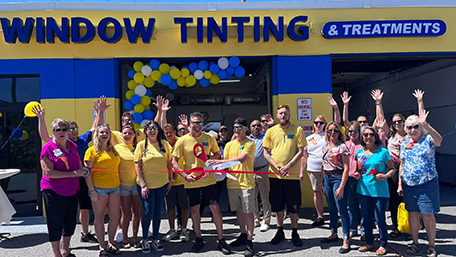 Celebrating 10 Years in Brevard County
We recently celebrated 10 years of service in Cocoa Beach and Brevard County with the Cocoa Beach Regional Chamber of Commerce. The Chamber joined us for a ribbon cutting in April of 2023. We also hosted a community celebration in March. We are proud to be a member of this community.
From One Of Our Customers
"I'm an actual customer, not an employee. I rarely write reviews but I'm so impressed with this company and its employees that here I am. Having said that, I needed to cool off the car, period. Tinting was secondary although JAG did have anything from practically clear to what they call "limo tint" and I was told that all the products (3M in this case) offer a larger degree of cooling than most. The window treatments I had installed were a modest tint but it ABSOLUTELY cut the heat in half (at LEAST in my opinion!) These results led me down a proverbial rabbit hole of having this done on my house also! Same results. Impressive! Prompt, courteous, FAST, clean, easy and (surprisingly) affordable. My Mother-in-law liked the house results so much she ordered it for HER house too. It solved a problem she was having with the sun bleaching out carpet and furniture. (she did not want curtains because it blocked her nice view) problem solved. My sales guy for the house was Russell and the installer was Tyler. First Rate! The gang at the JAG car window shop as well were First Rate! Can't recommend these guys and this service enough! Buy with confidence!"
– John Sweeny, Google Reviews
"Beginning with the Russell's estimate and continuing with the installation everything was done with an eye for detail and perfection! We are very pleased with the shutters in our living room, dining and kitchen and the blinds in two bedrooms. Their price is very reasonable and their service was excellent!" – Cynthia
"James did a wonderful job guiding us through the process of adding plantation shutters to four rooms in our home. He also tinted a large window in our foyer that allowed too much direct sun into our home. The results are amazing, and the job was handled timely and professionally. We couldn't be more pleased. Thanks, James!" – Sharon
"I went to another company and they wanted twice the price JAG did the job for, The work is excellent, very friendly employees and an over all great experience. From this day forward I will always take my vehicles to JAG and I highly recommend you do the same, you can get other quotes, but you will never beat their service or their workmanship."
– Bob Chapman, Google
"Couldn't have taken my Mercedes to a better place. Love Love Love my window tint! I'm going to tell everyone about this place! My new window tint keeps my car so much cooler now in the Florida sun. Thanks again JAG, you are the best!!!!"
– Trudy Reiser, Google
"I just had my windows done at Cocoa Beach to keep the light away from the turtles. It is great. Not only did they do a great job, but the recommendation of the proper tint for my purpose came from James & it is great! Thank you so much."
– Bickley Wilson, Facebook
"A+ service! JAG window tinting is a highly professional and friendly operation. I received a competitive and timely quote to get my house's window tinted. Due to my hectic schedule, I had to request an evening appointment, which was no problem. They showed up to my house even before schedule and got right to work. The finished results are outstanding. JAG is a family operation and the staff is very friendly and courteous. I highly recommend JAG auto tinting."
– Sally J., Yelp
"Finally a professional window tint company with great quality service and prices. I have had several cars tinted over the years in Brevard county and it was always somewhat of a gamble, from bad attitudes to bad tint jobs. Not anymore, JAG tint installation was the best tint job I have ever had...great job, good price and no fuss. Thanks James."
– Chris B, Yelp