Improve Comfort, Style and Privacy
With 3M™ Automotive Window Tint
Improve Comfort, Style and Privacy
With 3M™ Automotive Window Tint
Let Us Help You Stay Cool, Protect Your Investment with 3M Auto Tint
Since 1993, we have been helping vehicle owners drive more comfortably while knowing their investment is protected. 3M auto tint is designed to help block the Sunshine State's harsh heat and give you protection from the harsh elements of everyday driving. 3M's clear bra films help fight scratches while giving you virtually invisible protection using 3M™ Scotchgard™ technology.
JAG Window Tinting & Treatments has been selected as a 3M™ Pro Shop. This means that 3M recognizes us as a premier dealer and provided us access to a full spectrum of 3M™ Window Film products and services so that we can better serve you.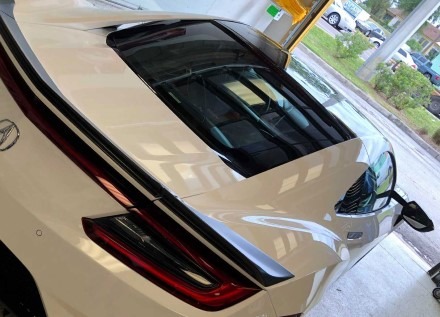 3M™ Crystalline Automotive Window Film
This state-of-the-art multilayer tint incorporates optical technology and combines more than 200 layers of film. Thinner than a Post-It® Note, this 3M auto tint can reject more heat than darker films.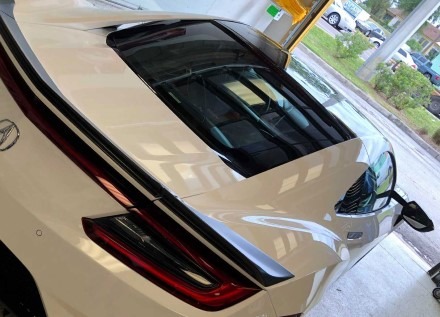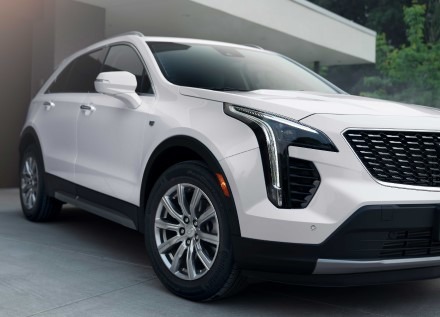 Developed with a high level of infrared rejection, 3M's ceramic tint incorporates nano-ceramic technology to bring you unprecedented heat rejection. As a result, your skin will feel the difference with this 3M auto tint.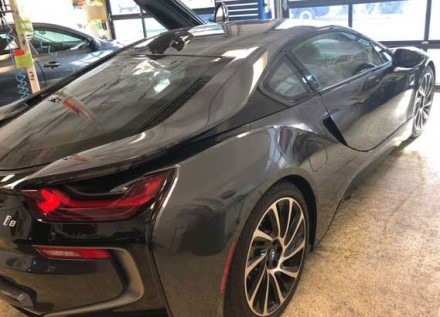 3M™ Color Stable Window Tint
Get an amazing look with incredible color stability. This nonmetallized 3M auto tint won't interfere with your electronics. This 3M patented tinting also provides protection from the sun's harsh rays.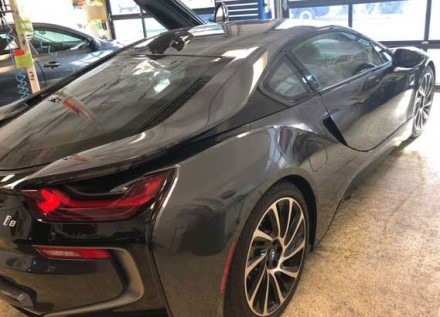 High Performance FX Series
Offered in a variety of tinting levels to meet your needs, this 3M auto tint provides superior UV protection while significantly reducing glare. As a result, enjoy outstanding heat rejection and a sleek charcoal finish.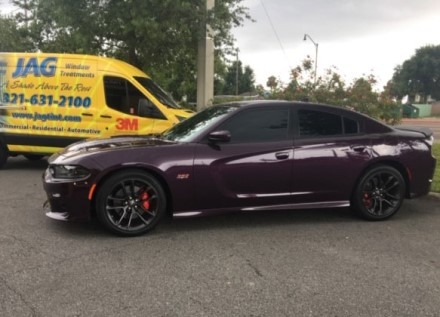 Keep Your Car Looking New
Help fight scratches or dents with 3M™ Scotchgard Technology. 3M™ Paint Protection Films, known as clear bra, gives you virtually invisible protection on high-impact, vulnerable areas of your vehicle. You also can protect the entire paint surface.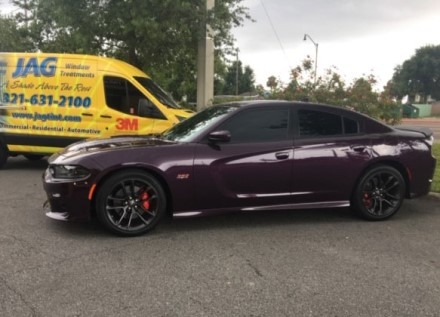 Ask Us About Gift Certificates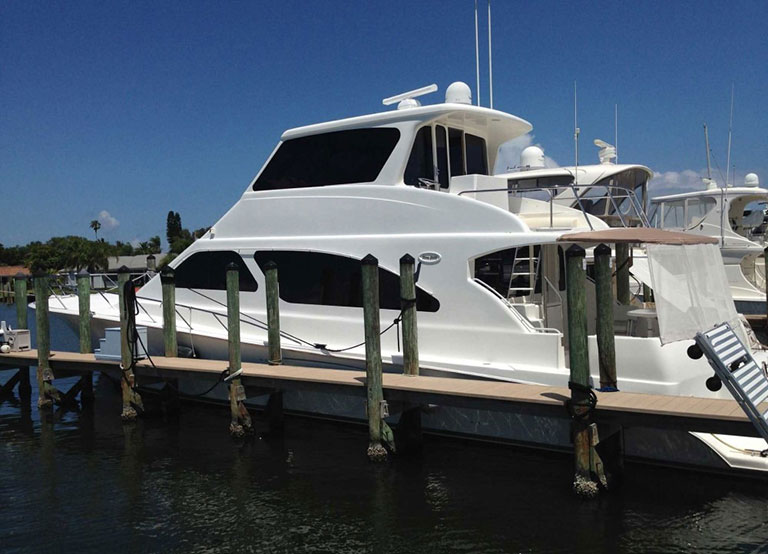 Ask Us About Our Marine Services
We also provide tint services for your boat. Our experienced staff has installed 3M™ Window Film on yachts and other marine vessels.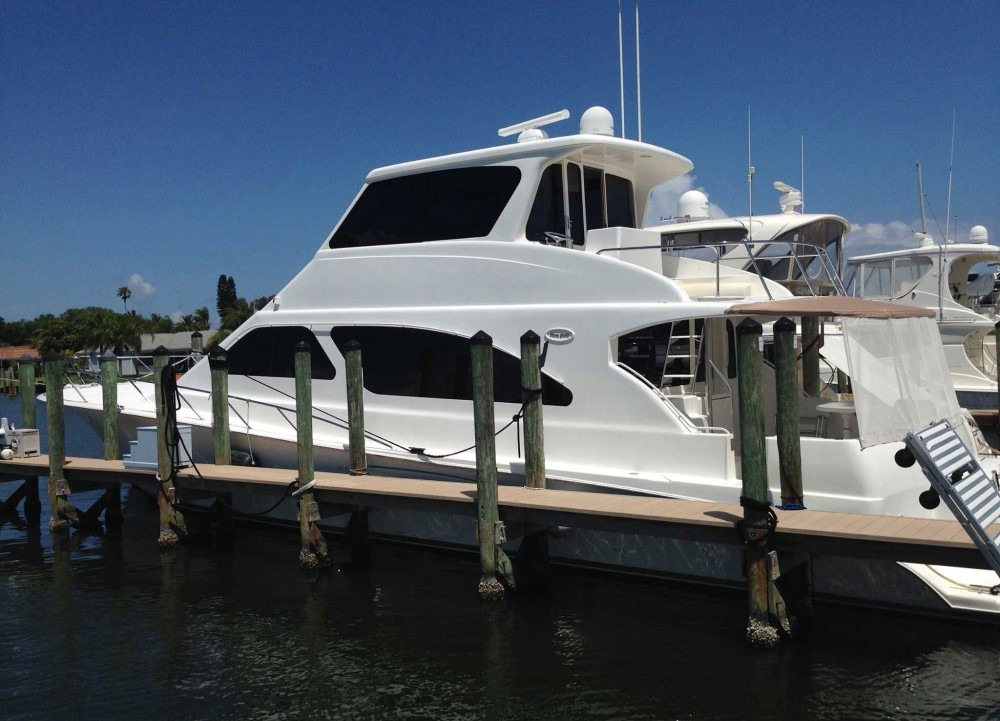 Improve Your Driving Experience with 3M Crystalline
Thinner than a Post-It® Note, 3M's state-of-the-art Crystalline Series is designed to improve your experience in your car. This tinting rejects up to 97 percent of heat-producing infrared rays. It's clear technology also blocks harmful UV rays.
"Beginning with the Russell's estimate and continuing with the installation everything was done with an eye for detail and perfection! We are very pleased with the shutters in our living room, dining and kitchen and the blinds in two bedrooms. Their price is very reasonable and their service was excellent!" – Cynthia
"James did a wonderful job guiding us through the process of adding plantation shutters to four rooms in our home. He also tinted a large window in our foyer that allowed too much direct sun into our home. The results are amazing, and the job was handled timely and professionally. We couldn't be more pleased. Thanks, James!" – Sharon
"I went to another company and they wanted twice the price JAG did the job for, The work is excellent, very friendly employees and an over all great experience. From this day forward I will always take my vehicles to JAG and I highly recommend you do the same, you can get other quotes, but you will never beat their service or their workmanship."
– Bob Chapman, Google
"Couldn't have taken my Mercedes to a better place. Love Love Love my window tint! I'm going to tell everyone about this place! My new window tint keeps my car so much cooler now in the Florida sun. Thanks again JAG, you are the best!!!!"
– Trudy Reiser, Google
"I just had my windows done at Cocoa Beach to keep the light away from the turtles. It is great. Not only did they do a great job, but the recommendation of the proper tint for my purpose came from James & it is great! Thank you so much."
– Bickley Wilson, Facebook
"A+ service! JAG window tinting is a highly professional and friendly operation. I received a competitive and timely quote to get my house's window tinted. Due to my hectic schedule, I had to request an evening appointment, which was no problem. They showed up to my house even before schedule and got right to work. The finished results are outstanding. JAG is a family operation and the staff is very friendly and courteous. I highly recommend JAG auto tinting."
– Sally J., Yelp
"Finally a professional window tint company with great quality service and prices. I have had several cars tinted over the years in Brevard county and it was always somewhat of a gamble, from bad attitudes to bad tint jobs. Not anymore, JAG tint installation was the best tint job I have ever had...great job, good price and no fuss. Thanks James."
– Chris B, Yelp
From One Of Our Customers
"I'm an actual customer, not an employee. I rarely write reviews but I'm so impressed with this company and its employees that here I am. Having said that, I needed to cool off the car, period. Tinting was secondary although JAG did have anything from practically clear to what they call "limo tint," and I was told that all the products (3M in this case) offer a larger degree of cooling than most. The window treatments I had installed were a modest tint but it ABSOLUTELY cut the heat in half (at LEAST in my opinion!). These results led me down a proverbial rabbit hole of having this done on my house also! Same results. Impressive! Prompt, courteous, FAST, clean, easy and (surprisingly) affordable. My Mother-in-law liked the house results so much she ordered it for HER house too. It solved a problem she was having with the sun bleaching out carpet and furniture. (She did not want curtains because it blocked her nice view.) Problem solved. My sales guy for the house was Russell and the installer was Tyler. First Rate! The gang at the JAG car window shop as well were First Rate! Can't recommend these guys and this service enough! Buy with confidence!"
– John Sweeny, Google Reviews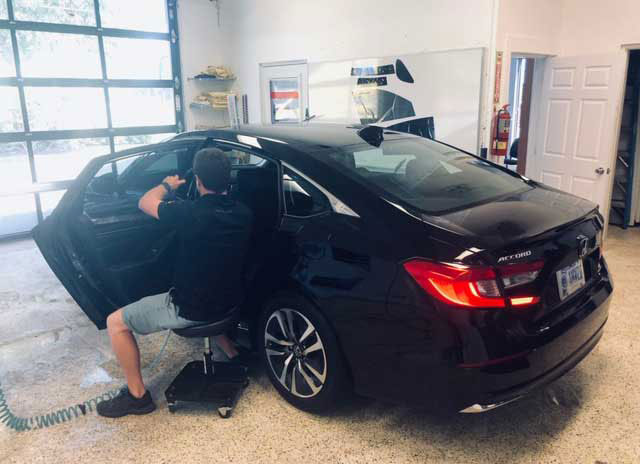 Book An Appointment With One of Our Experts
JAG's full-time window film installers are certified by 3M to ensure the highest quality installation backed by the most comprehensive warranty from 3M, a company you know and trust.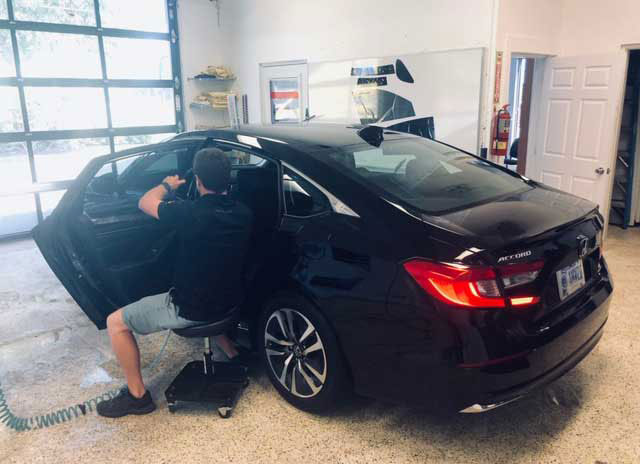 Speak To One Of Our Experts
Have questions? We can answer them.