Enjoy Your Cocoa Beach View
With Plantation Shutters
Enjoy Your Cocoa Beach View
With Plantation Shutters
Cocoa Beach Plantation Shutters Pros
JAG Window Tinting & Treatments offers Cocoa Beach plantation shutters custom built to specifications using high quality materials from some of the world's top manufacturers. Looking for plantation shutters near me? We offer hundreds of colors and styles so that you can get the look that you desire inside your Cocoa Beach home. We have plantation shutter options that will fit every budget. Speak to a window treatment expert today.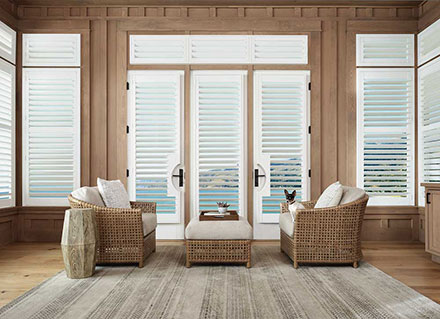 Cocoa Beach Plantation Shutters Offer Style, Privacy, Protection
Enjoy the view from your windows even more with stylish plantation shutters made from materials designed to last. We offer a variety of plantation shutters that are easy to maintain and offer style, privacy and protection from the harsh East Coast of Florida sun. Choose from a variety of colors, specialty shapes, materials like hardwood or composite, and more when you work with us, your Cocoa Beach plantation shutters experts.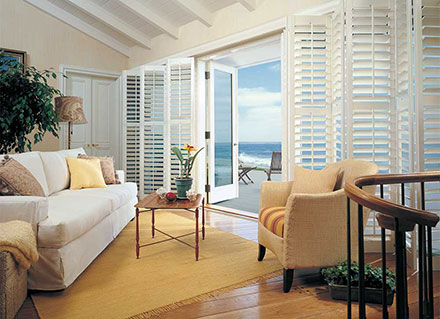 Cocoa Beach Plantation Shutters: Go Natural with Hardwood Shutters
We carry the best Cocoa Beach plantation shutters for your home, including Hunter Douglas Heritance® Hardwood Shutters, which are constructed using high-quality, genuine hardwood or polar hardwood. The finish on these shutters offers a high luster and long-lasing durability with minimal care necessary. Get an unlimited choice of color or unique finish with this special Hunter Douglas series. With every Heritance shutter purchase, Hunter Douglas donates to the Arbor Day Foundation to support its efforts to plan and preserve trees and the rainforest.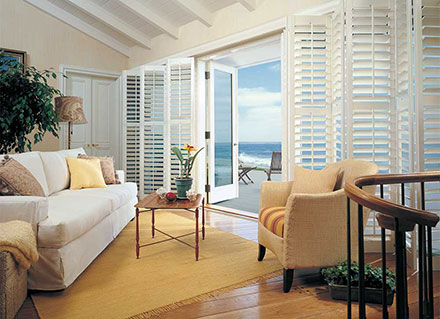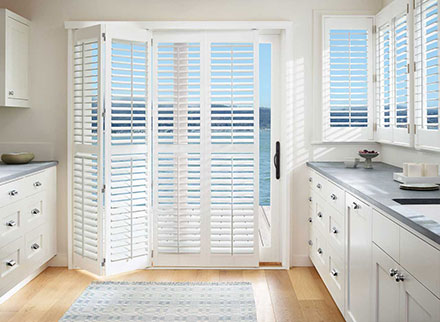 Cocoa Beach Plantation Shutters: Embrace the Waterfront View
Compliment your beach décor with Cocoa Beach plantation shutters. Hunter Douglas offers a Palm Beach™ Polysatin™ Shutter that is ideal for Florida's hot and humid climate. These plantation shutters are constructed using UV-resistant material, designed to prevent warping, cracking, fading, chipping and pealing. Ask us about how PowerView® Automation – the only motorized plantation shutter on the market – can help you control the sunlight on your terms, hands free!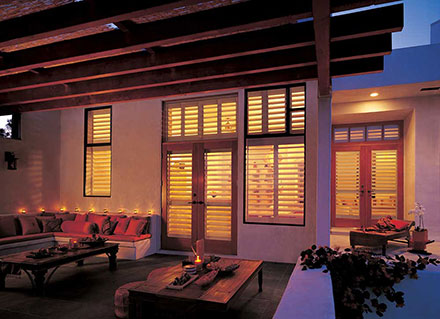 Cocoa Beach Plantation Shutters: Hybrid Shutters for Busy Households
Hunter Douglas offers a plantation shutter for Cocoa Beach families and busy on-the-go households. Get the natural style of wooden plantation shutters combined with the added durability of man-made materials with Hunter Douglas' NewStyle® Hybrid Shutters. These are attractive and functional window treatment.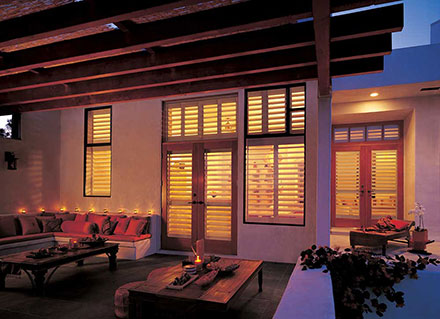 Feel Light Transformed in Cocoa Beach
JAG Window Tinting & Treatments is a Hunter Douglas Coverings Priority Dealer. We offer hundreds of choices of shades, blinds, shutters and window treatments. Choose from a variety of colors, textures, fabric and functions for your Cocoa Beach home.
Looking For More Inspiration For Your Cocoa Beach Home?
JAG Window Tinting & Treatments offers a variety of window covering solutions designed to improve the comfort of your home, including window treatment options and window film. We offer free in-home consultations. For an in-home visit, one of our expert design consultants can show you examples, offer design ideas and measure and provide a no-obligation quote. You can also view our sample books, which may inspire more ideas for your Cocoa Beach home.
"Beginning with the Russell's estimate and continuing with the installation everything was done with an eye for detail and perfection! We are very pleased with the shutters in our living room, dining and kitchen and the blinds in two bedrooms. Their price is very reasonable and their service was excellent!" – Cynthia
"James did a wonderful job guiding us through the process of adding plantation shutters to four rooms in our home. He also tinted a large window in our foyer that allowed too much direct sun into our home. The results are amazing, and the job was handled timely and professionally. We couldn't be more pleased. Thanks, James!" – Sharon
"I went to another company and they wanted twice the price JAG did the job for, The work is excellent, very friendly employees and an over all great experience. From this day forward I will always take my vehicles to JAG and I highly recommend you do the same, you can get other quotes, but you will never beat their service or their workmanship."
– Bob Chapman, Google
"Couldn't have taken my Mercedes to a better place. Love Love Love my window tint! I'm going to tell everyone about this place! My new window tint keeps my car so much cooler now in the Florida sun. Thanks again JAG, you are the best!!!!"
– Trudy Reiser, Google
"I just had my windows done at Cocoa Beach to keep the light away from the turtles. It is great. Not only did they do a great job, but the recommendation of the proper tint for my purpose came from James & it is great! Thank you so much."
– Bickley Wilson, Facebook
"A+ service! JAG window tinting is a highly professional and friendly operation. I received a competitive and timely quote to get my house's window tinted. Due to my hectic schedule, I had to request an evening appointment, which was no problem. They showed up to my house even before schedule and got right to work. The finished results are outstanding. JAG is a family operation and the staff is very friendly and courteous. I highly recommend JAG auto tinting."
– Sally J., Yelp
"Finally a professional window tint company with great quality service and prices. I have had several cars tinted over the years in Brevard county and it was always somewhat of a gamble, from bad attitudes to bad tint jobs. Not anymore, JAG tint installation was the best tint job I have ever had...great job, good price and no fuss. Thanks James."
– Chris B, Yelp
Speak To One Of Our Experts
Have questions? We can answer them.
Cocoa Beach Plantation Shutters