Looking for kitchen remodeling ideas? With the holiday season around the corner, you will soon find yourself spending even more time in your kitchen, cooking savory holiday dishes and baking delightful deserts for you and your guests. Now is a great time to consider a kitchen remodel using 3M decorative film.
Decorative films can be used to cover your existing counters and kitchen cabinet doors, giving you a custom fresh look at a fraction of the cost of replacement. These films, manufactured by 3M, one of the leading manufacturers in adhesive technology, can be put in place by a trained installer, like JAG Window Tinting & Treatments, with little interruption and downtime. Here are three kitchen remodeling ideas to consider this holiday season using 3M Decorative Film.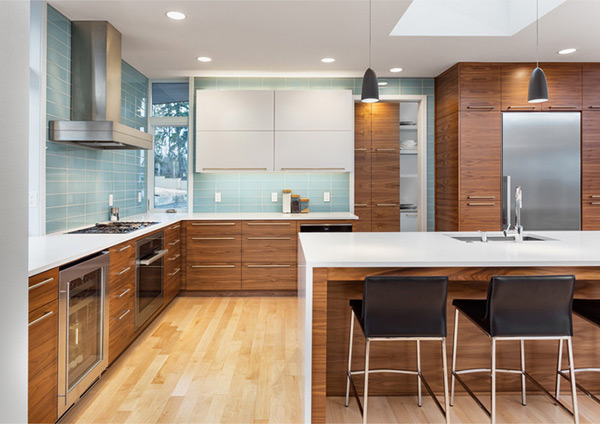 Kitchen Remodeling Ideas: Add the Look of Premium Wood
While there seems to be an endless supply of kitchen remodeling ideas, one that stands out is giving your kitchen a more natural, warm look by adding a wooden finish to your kitchen cabinets, doors and counters. 3M decorative films' Premium Wood Series provides the realistic texture and feel of natural wood.
Choose from a variety of wooden textures, like hickory, chestnut, oak or walnut, to add a touch of warmth and coziness to your kitchen. These films are scientifically designed to control the reflection using a patented matte coating technology combined with high-definition embossing technology. You'll get a high-quality look of a fine, deep wood grain in the prints of these films, which are also fingerprint resistant and easy to clean and disinfect.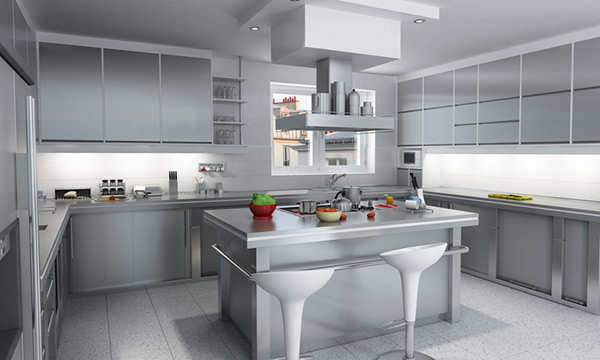 Kitchen Remodeling Ideas: Add the Look of Metal
If obtaining a more modern, stylish look is within your kitchen remodeling ideas, consider 3M decorative film's Metallic Palette Series, which provides the perfect finish to your design.
Available in matte, semi-matte, hairline, oxidized and random hairline metal textures, these metallic films offer a smooth look and feel on kitchen cabinets. The metals come in an array of choices – including four silver tones and a champagne gold.
Each of 3M's films are durable, able to be disinfected and easy to clean.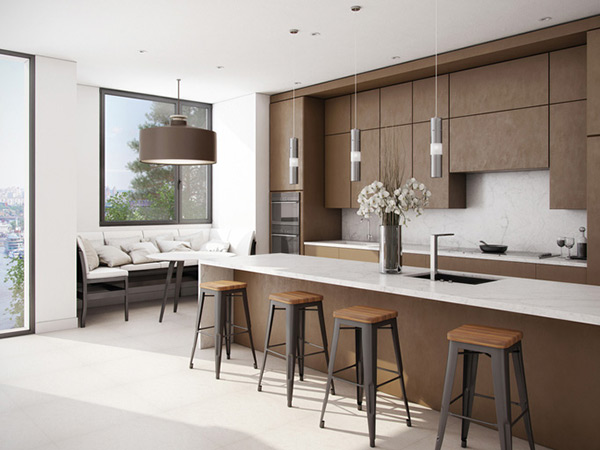 Kitchen Remodeling Ideas: Add the Look of Texture
Consider a blend of modern and traditional patterns when it comes to kitchen remodeling ideas by installing 3M's Artisanal Series of films. These films include the look of plastered stucco, mortar, terracotta, oxidized copper plates and metal weave textiles.
3M's artisanal series of films provide beautiful light reflection. The designs are hand-crafted to show a rich, irregular texture that are both sophisticated and nostalgic.
You can certainly mix and match, too, with a blend of artisanal films on kitchen pantry cabinets and metal or wood films on countertops. The design possibilities are endless.  
Make Your Kitchen Remodeling Ideas a Reality
If you are concerned about the cost to remodel kitchen cabinets, doors, countertops, and tables, consider decorative film instead. 3M's decorative films, called DI-NOC Architectural Film, are a more sustainable, cost-effective way to change the look of your kitchen. The films are constructed using a thick vinyl material, and the films are installed to cover the existing surfaces of countertops and cabinets – so you don't experience the high cost of actual replacement. 
Trained installers, like the staff at JAG Window Tinting & Treatments, can install 3M di noc quickly and effortlessly, so you are not without access to your kitchen for long – which is especially important during the holiday season. Because it does not require the replacement of cabinets and counters, installing di noc also means there is less waste going to landfills.
The product is like the best wallpapers, only much thicker and higher quality. Manufactured by 3M, the maker of Post-It® Notes, these films can adhere to existing surfaces and can cover tables, countertops, cabinets and more. There are even di-noc films that can cover the back of glass for a more glossy and reflective appearance. Choose from hundreds of kitchen cabinet colors.
Book an appointment today to talk about kitchen remodeling this holiday season. JAG Window Tinting & Treatments has been installing film since 1993. The family owned and operated business has been serving Brevard County homeowners for decades. Book an appointment and speak with an expert today to find out which series of 3M decorative film is best for you. Call (321) 631-2100 today.