Enjoy Your Home, Office View
With Lake Nona Blinds
Enjoy Your Home, Office View
With Lake Nona Blinds
Your Lake Nona Blinds Experts
JAG Window Tinting & Treatments offers a variety of Lake Nona blinds for your home or office. Choose from a variety of colors, textures and materials of window coverings that are designed to improve comfort, slow fading furniture and flooring, reduce glare and lower heat. Our products can enhance the look of your home or office décor. We use blinds that come from leading manufacturers like Hunter Douglas. All of our blinds are backed by strong warranties. We are your Lake Nona Blinds experts.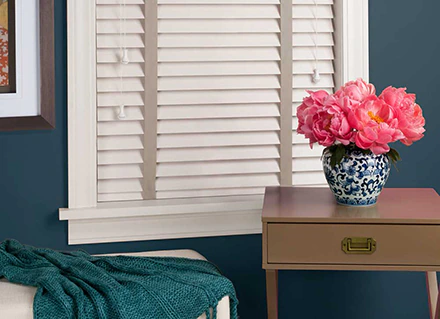 Lake Nona Blinds: The Right Solution for Window Treatments
As your Lake Nona blinds professionals, we offer a variety of window treatments from some of the top manufacturers in the world, including Hunter Douglas. We can also match the right Lake Nona blinds to your lifestyle and room needs. For example, EverWood® Alternative Wood Blinds provides durability. Offered in an array of finish options, these blinds are built to last decades. They are guaranteed against fading, yellowing, warping or bowing – which makes them ideal for bathrooms and areas that receive full sun.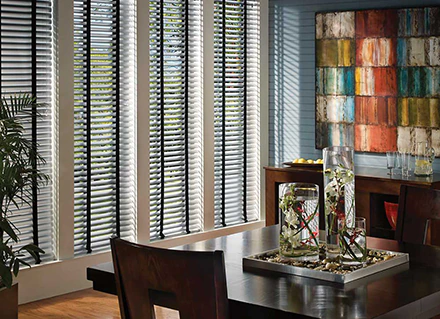 Lake Nona Blinds: Sleek Metal for a Clean Look
As your Lake Nona Blinds experts, we can provide window covering solutions for your home or office that provide both sun control and privacy. Hunter Douglas' Modern Precious Metals® Aluminum Blinds offer a clean, uncluttered look that offers the maximum light control and privacy. These blinds are both durable and flexible in design patterns, colors and textures. Be sure to ask us how to get twice the view through Hunter Douglas' state-of-the-art, innovative MagnaView® feature.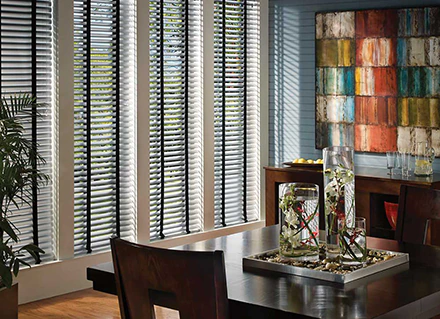 Lake Nona Blinds: Real Wood Blinds for Your Home, Office
If you are looking for real wood, we have a Lake Nona blinds solution. Hunter Douglas' Parkland® Wood Blinds are made with real wood and complement any décor and style. Fashioned to create a warm and inviting atmosphere, these window coverings are available in a variety of textures and shades and in two slat sizes. The finishing on these wooden blinds offer maximum protection and beauty.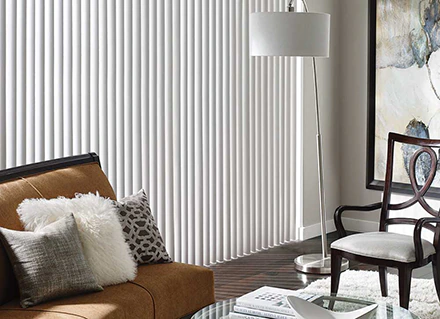 Lake Nona Blinds: Vertical Blinds for Home, Office
As your Lake Nona blinds professionals, we are experts at installing vertical blinds for inside homes and office buildings. Choose from a variety of blind options that can cover everything from sliding glass doors and glass walls to bay windows. Our vertical blinds are easy to operate and offer superior light control – so you get the sunlight on your terms. Choose from a variety of vinyl, fabric, aluminum styles and an extensive array of colors, textures and patterns. Ask us about PowerView® automation.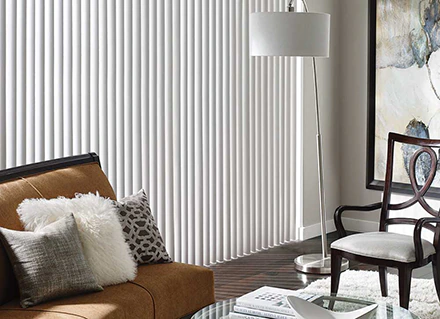 Feel Light Transformed in Lake Nona
As a Hunter Douglas Coverings Priority Dealer, we offer hundreds of choices of window treatments, including shades, blinds, shutters and more. Choose from a variety of textures, fabrics and colors for your Lake Nona home or office. Ask us about Hunter Douglas' innovative PowerView® Automation, which results in opening and closing blinds easily with just a click of a button or by scheduling a time on an app on your smartphone.
Looking for More Inspiration for your Lake Nona Home or Office?
JAG Window Tinting & Treatments offers a variety of window covering solutions for your Lake Nona home or office – including window film and window treatments like shutters, blinds, roller shades, shades, plantation shutters and more. We offer free in-home consultations. During an in-home visit, one of our expert design consultants will show you examples, offer design ideas, measure your windows and provide a no-obligation quote. You can also view our sample books, which may inspire more design ideas of your Lake Nona home or office.
"Beginning with the Russell's estimate and continuing with the installation everything was done with an eye for detail and perfection! We are very pleased with the shutters in our living room, dining and kitchen and the blinds in two bedrooms. Their price is very reasonable and their service was excellent!" – Cynthia
"James did a wonderful job guiding us through the process of adding plantation shutters to four rooms in our home. He also tinted a large window in our foyer that allowed too much direct sun into our home. The results are amazing, and the job was handled timely and professionally. We couldn't be more pleased. Thanks, James!" – Sharon
"I went to another company and they wanted twice the price JAG did the job for, The work is excellent, very friendly employees and an over all great experience. From this day forward I will always take my vehicles to JAG and I highly recommend you do the same, you can get other quotes, but you will never beat their service or their workmanship."
– Bob Chapman, Google
"Couldn't have taken my Mercedes to a better place. Love Love Love my window tint! I'm going to tell everyone about this place! My new window tint keeps my car so much cooler now in the Florida sun. Thanks again JAG, you are the best!!!!"
– Trudy Reiser, Google
"I just had my windows done at Cocoa Beach to keep the light away from the turtles. It is great. Not only did they do a great job, but the recommendation of the proper tint for my purpose came from James & it is great! Thank you so much."
– Bickley Wilson, Facebook
"A+ service! JAG window tinting is a highly professional and friendly operation. I received a competitive and timely quote to get my house's window tinted. Due to my hectic schedule, I had to request an evening appointment, which was no problem. They showed up to my house even before schedule and got right to work. The finished results are outstanding. JAG is a family operation and the staff is very friendly and courteous. I highly recommend JAG auto tinting."
– Sally J., Yelp
"Finally a professional window tint company with great quality service and prices. I have had several cars tinted over the years in Brevard county and it was always somewhat of a gamble, from bad attitudes to bad tint jobs. Not anymore, JAG tint installation was the best tint job I have ever had...great job, good price and no fuss. Thanks James."
– Chris B, Yelp
Speak To One Of Our Experts
Have questions? We can answer them.